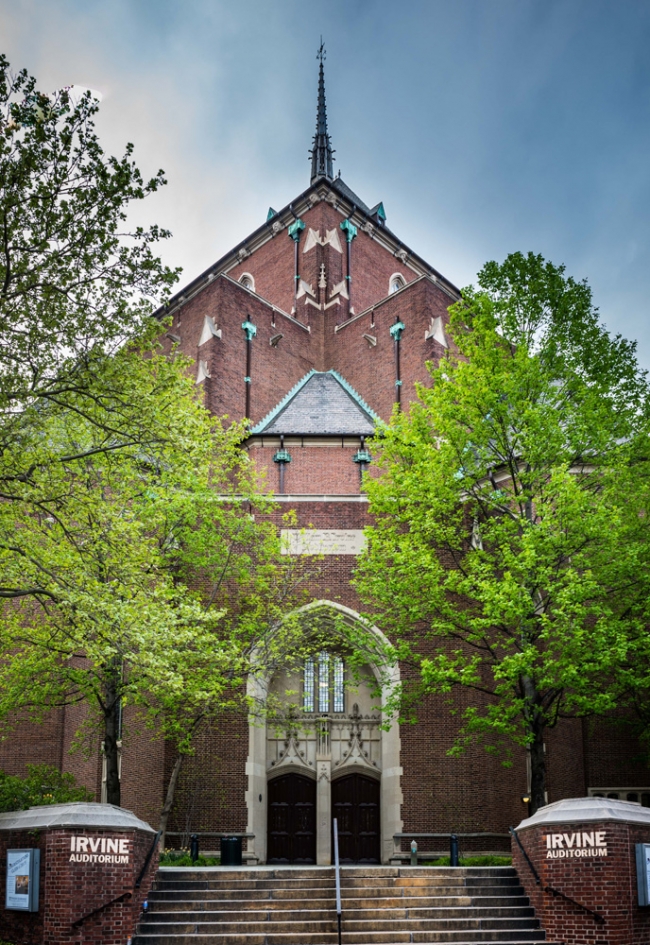 Irvine Auditorium
3401 Spruce St
Philadelphia, PA 19104
Irvine Piano Practice Room
Monday – Sunday
3:00 pm – 10:00 pm
Effective through 2/28
Penncard holders can sign out a practice room key at the Student Union @ Houston Hall Information Desk.
If the gargoyles on the auditorium's octagonal, soaring, red brick exterior fail to capture your attention, the Main Hall will leave you speechless. Completed in 1932 by renowned Philadelphia architect Horace Trumbauer and distinguished by its inner walls depicting the philosophical history of the University, the Main Hall at Irvine seats 1,259 and houses the Curtis organ, the eleventh largest pipe organ in the world. Irvine Auditorium also houses an acoustic recital hall, four additional special event spaces, production offices, a box office, coatroom, dressing rooms, and music practice rooms. The entire facility is air-conditioned and equipped with state-of-the-art technology including a digital satellite computer/video projector, internet access and a house intercom system.
The building is only open to the public when an event is taking place in the building.  Please call the Space and Events administrative offices at 215-898-5552 to determine if the building is open for a particular day and time.